Overcoming fear of the dentist is something 9 – 15% of adults have to deal with, a surprising fact for many. When it comes to kids, even though an exact estimate is hard to come by, it is assumed that the number is much higher. How do you get your kids to avoid fear of the dentist?
There are many reasons why a child may be afraid of the dentist. Not fully understanding the motivations of the dentist, the reason for the visit, and the usage of dental tools are just some examples. In this article, City Dental Kids & Braces discusses how to help your child or children overcome their fear of the dentist.
Make Visiting the Dentist a Fun Experience
If you're not sure how your child will take visiting the dentist, approach the subject delicately. Often times, the parent may be at least partially responsible for their child's fear. Make the procedures that will be performed sound fun rather than frightening! Perhaps offer a toy to your child afterward or a trip to the park for good behavior during the visit. There are lots of ways to make a trip to the dentist anything but an ordinary experience.
Be Careful What You Let Your Kids Watch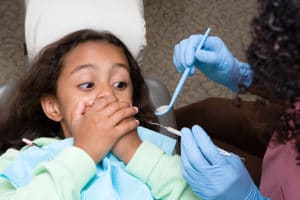 Often times, children may be afraid of the dentist based on something they saw on television. It may not directly relate to dentistry, but generally if a child has seen a substantial amount of violence on television they will be more likely to expect this same violence in day to day situations. Being proactive about keeping the movies, shows, and books your child reads age-appropriate is one solution that will prevent their imaginations from running about how the dentist could be secretly out to get them.
Let Your Kids Watch You Get Your Teeth Cleaned
Letting your children watch you during a visit to the dentist prior to their visit with a pediatric dentist can help put them at ease. If they watch you during a routine teeth cleaning, for example, they may feel more comfortable seeing that you came out of the experience alive and endured it without kicking and screaming. This is a great way to lead by example in showing your children that they have nothing to fear when it comes to visiting the dentist. After all, if mommy and daddy can do it safely, why can't they? Children love to prove they are capable of being adults. Let them show you what they are made of in facing their fear of the dentist!
Let Your Dentist Know About Your Child
If there are certain tricks you use at home to make your child more comfortable in situations where they otherwise may not be the most at ease, let your dentist know. If your child likes space ships, share that with your dentist so they can talk about astronauts and the moon while they clean your child's teeth. Little things like this can turn a bad experience at the dentist into a good one. Generally, a reputable children's dentist will know the right things to talk about during your child's visit to keep them comfortable.
Choose a Reputable Children's Dentist
There are many reasons why a regular dentist may not be able to take care of a child's needs or, at the very least, may not be the most suitable choice. It's important to note that a pediatric dentist actually requires additional years of experience to treat children. Because of this, there are some dentists that are trained for adults but not for kids.
In other cases, a dentist may be able to take adults and children alike, but they really don't specialize in treating children. Choosing a dentist with pediatric dentistry as a specialty will ensure your child is as comfortable as possible during their visit. Understand that dentists not specializing in children's dentistry often won't have the imagination to make children feel comfortable during their visit if they have any fears.
If you're looking for a reputable children's dentist, City Dental Kids & Braces is the number one choice for you and your family!
City Dental Kids & Braces is Here For YOU!
A professional pediatric dentist can really help in instilling good habits in your children. City Dental Kids & Braces is the perfect choice for you and your kids. Contact us today!
City Dental Kids & Braces was established by Dr. Sam Shahoveisi and Dr. Michael Danial to bring a comfortable and fun experience visiting the dentist to children. City Dental Kids & Braces is the best choice for any and all of your pediatric dental concerns. The professionalism of their doctors will ensure your child has the best possible care before, during, and after their dental procedure.
For questions, or to schedule an appointment, contact us today at (909) 972-8352.