The Importance of a Healthy School Lunch
In the age of fast food as well as packaged and processed meals, it's no surprise that many parents draw a blank when it comes to packing a truly healthy school lunch for their kids. Some parents turn to premade meals thinking they are simple solutions. However, a glance at the nutritional value proves your kids are not getting what they need from these options. A healthy school lunch will give your child the nutrition they need while minimizing things like excessive sugar or other unhealthy additives.
When it comes to taking care of your child's teeth, preparing a healthy meal for your child is one of the best things you can do in addition to instilling good habits like regular brushing and flossing. City Dental Kids & Braces presents this information so that parents can be educated about the proper way to pack a healthy school lunch.
A Healthy School Lunch Start With the Right Supplies
When it comes to packing a healthy school lunch, the foundation is built upon having the right supplies to store the food and drink in the first place. Some examples include a divided lunch container, an insulated lunch bag, ice packs, and a thermos container with a cup.
Quite often parents turn instead to juices in disposable containers that are usually less healthy, and other prepackaged foods that wouldn't be needed if only the right storing material and healthy food was chosen instead. Little changes can make a big difference in your ability to provide healthy meals for your child.
Make Efforts to Recycle (and Save Money)
As a dad, I was hesitant to send my daughter to school with reusable items like utensils and cloth napkins. My daughter is incredibly forgetful and I don't enjoy losing those kinds of things. However, I found that providing my daughter with reusable items wasn't just a way to save money and help save the environment, I was also teaching my daughter a sense of responsibility.
I started by sending her to school with old silverware I wouldn't worry about losing and built on her responsibility from there. In the end, my daughter was better from the experience in knowing what to throw away and what to keep and I felt better about avoiding being wasteful. Consider everything from reusable utensils and food containers to cloth napkins in providing for your child economically and in solidarity with protecting the environment.
Freeze Leftovers & Larger Batches of Food
Preparation is key in keeping your child healthy. It's much easier to prepare a healthy meal for your child the night before than at the last minute before your child goes to school. It's even easier if you freeze soups and other meals made in advance so your child has food for a few days or even the whole week.
Make sure to consider your child's age and accessibility to a microwave at school. Additionally, avoid lunchmeat. It is highly processed, like many other foods commonly used in kids' lunches. Only serve these foods occationally. While considered a staple in many parent's ingredients for children's lunches, it's not actually a healthy choice.
Find Healthy Alternatives to Your Child's Unhealthy Favorites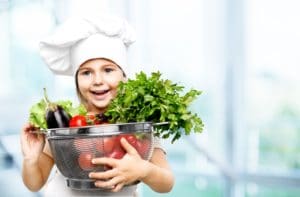 Unfortunately, most parents cave at some point and give their child something unhealthy to bring in their lunch. Lunchables appeared in my child's lunch a few times. And I'm not proud of it. But it happens to the best of us. I ran out of time to prepare a real meal due to various circumstances. My daughter will request such unhealthy meals on occasion.
Fortunately, there are healthy alternatives and my child will not know the difference. If it's Lunchables, prepare your own combination of healthy crackers, cheeses, and meats if necessary. If she likes those pouch juices, instead use a thermos to provide healthy, non-processed juices. There is always a healthy alternative to an unhealthy meal.
If you need more recommendations, consult with your friendly pediatric dentist, City Dental Kids & Braces!
City Dental Kids & Braces is Here For YOU!
A professional pediatric dentist can really help in instilling good habits in your children. City Dental Kids & Braces is the perfect choice for you and your kids. Contact us today!
City Dental Kids & Braces was established by Dr. Sam Shahoveisi and Dr. Michael Danial to bring a comfortable and fun experience visiting the dentist to children. City Dental Kids & Braces is the best choice for any and all of your pediatric dental concerns. The professionalism of their doctors will ensure your child has the best possible care before, during, and after their dental procedure.
For questions, or to schedule an appointment, contact us today at (626) 962-1700.