Gum disease in kids is fortunately not common among children. However, it is common for them to develop a mild form of it known as gingivitis. Untreated gingivitis, or just not instilling basic brushing and flossing habits in your children, can ultimately lead to gum disease. Regardless of whether or not either of these issues are a concern for your kids, it's a good idea to know how to be proactive and to be aware of how dentists identify and treat these issues.
Dr. Sam of City Dental Kids & Braces wants to help identify some ways to be proactive in preventing dental issues when it comes to your kids. We hope these tips will help your kids remain healthy and happy. And should issues develop, you'll know how we go about treating gum disease in kids.
Proactive Ways to Prevent Gingivitis and Gum Disease in Kids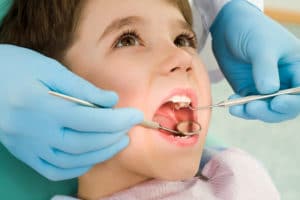 The best way to handle gum disease and gingivitis is, of course, to simply take appropriate steps with your kids to prevent them from ever having to deal with these problems at all.
To start, make sure your children brush twice a day and floss daily. If your child is under 1 year old, it's still a good idea to use a small, sensitive toothbrush for any teeth that are coming in. Also ensure you take appropriate steps to prevent problems like "bottle mouth" from occurring, such as being careful what drinks your child takes to bed with them.
Additionally, make sure your children maintain a healthy diet. If your children are eating a lot of sweets or drinking a lot of soda, for example, their risk for gum disease, gingivitis, and other problems is greatly increased. Keep your kids on lots of vegetables and healthy snacks.
You also need to visit your friendly neighborhood children's dentist City Dental Kids & Braces regularly, at least every 6 months. The American Academy of Pediatric Dentistry (AAPD) recommends that a child go to the dentist by age 1 or within six months after the first tooth erupts. Primary teeth typically begin growing in around 6 months of age.
If you already think there may be a problem, next up are some ways gum disease and other issues are discovered.
Identification of Gum Disease in Kids
It is best to catch gum disease at its earliest stages. At its earliest stages, when it is known as gingivitis, your child will experience symptoms that may include puffy, swollen, or red gums. They may also bleed easily during brushing and flossing even if your child is using a sensitive toothbrush.
In extreme cases, the gums may have receded away from the teeth. This is generally less common in children, as the problem is usually much more pronounced by this point.
If you suspect your child has any dental issues, your best bet is to visit a trusted children's dentist as soon as possible.
Treating Gum Disease
Whether your child simply has gingivitis or full blown gum disease, your dentist can help. A professional cleaning and change in some oral hygiene habits may be enough at the earliest stages. Treatment at later, more serious stages can include a deep cleaning, oral rinse, antibiotics or other medications.
In highly advanced cases, surgery may be needed. As long as you are being diligent in keeping an eye on the dental habits in your children, it is highly unlikely this will be needed. Your trusted children's dentist will recommend the best treatment needed based on your child's unique situation.
If you think your child has a dental problem, or if it is just time for a scheduled dental cleaning, City Dental Kids & Braces is happy to schedule your next appointment in our office.
City Dental Kids & Braces is Here for YOU!
A professional pediatric dentist can really help in instilling good habits in your children. This is especially true when it comes to preventing problems like gingivitis and gum disease. City Dental Kids & Braces is the perfect choice for you and your kids. Contact us today!
West Covina Children's Dentist
City Dental Kids & Braces was established by Dr. Sam Shahoveisi. His goal is to bring a comfortable and fun experience visiting the dentist to children. City Dental Kids & Braces is the best choice for any and all of your pediatric dental concerns. We'll ensure your child has the best possible care before, during, and after their dental procedure.
For questions, or to schedule an appointment, contact us today at (626) 962-1700.